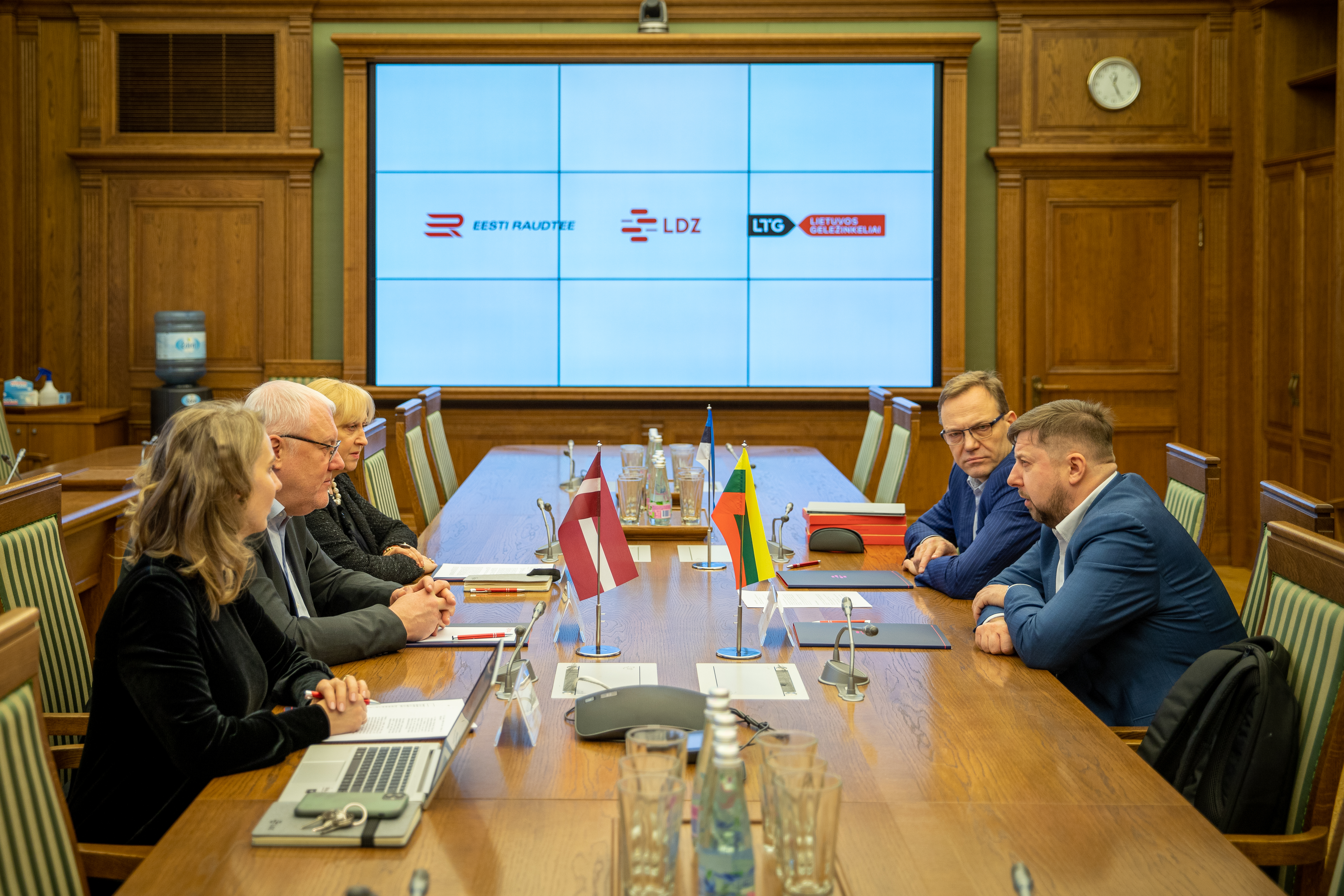 January 12, the heads of the national railways of the three Baltic countries met in Riga to discuss several important EU initiatives in the railway industry that will have a significant impact on the development of railway networks in future, including the important question of a possible transition to the standard gauge in all EU member countries. They also talked about a plan to include the Baltic railways in another freight transport corridor, which would connect Northern Europe with the Black Sea and the Aegean Sea.
Kaido Zimmermann, Chairman of the Board of the Estonian Railways (Eesti Raudtee), and Egidijus Lazauskas, Head of the Lithuanian railway company (Lietuvos Geležinkeliai, LTG) visited Riga yesterday at the invitation of SJSC "Latvijas dzelzceļš" Chairman of the Board Māris Kleinbergs. One of the items on the meeting's agenda was the Trans-European Transport Network (TEN-T) progress in network development and mobility promotion projects in the Baltic countries.
SJSC "Latvijas dzelzceļš" Chairman of the Board Māris Kleinbergs: "All three Baltic countries have technologically similar railway infrastructure, and the objectives defined in the EU regulatory framework regarding the Green Deal and passenger and cargo mobility are also similar in all three Baltic countries. It is therefore really important for us to share experience, discuss our future plans together, thus increasing competitiveness of our region."
The heads of the Baltic railways also discussed the EU's plans to switch the Baltic railways to the 2nd network corridor, which would open up new opportunities to expand the freight transport networks of all three countries. The need for connecting Northern Europe with the Black Sea and the Aegean Sea has arisen due to the complex geopolitical circumstances, as the previous freight routes are difficult to access or no longer available.
"In my opinion, the Baltic railways can, by joint effort, provide quality rail transport services within this corridor and contribute to the common mobility of Europe and to the economy of each country," explains SJSC "Latvijas dzelzceļš" Chairman of the Board Māris Kleinbergs.
"Estonian Railways are happy to participate in this meeting with our neighbor railway companies to discuss the future and opportunities for cooperation. We feel that our joint history presents us possibilities to work together to make the railway transportation industry even more relevant in our countries," commented the CEO of Estonian Railways Kaido Zimmermann.
"We appreciate the long-term partnership with Latvian and Estonian colleagues. Discussing challenges, sharing good practices, and searching for common opportunities is always meaningful and valuable. Therefore, we hope and invite to share experience in the future as well", says Egidijus Lazauskas, CEO of LTG.
Various cooperation matters, progress with the "Amber Train" project and other issues were also discussed during the meeting.